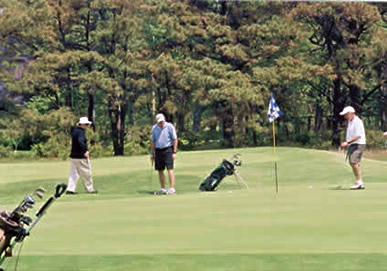 Mink Meadows is a semi-private, non-equity club.
We offer an excellent golf course to play on, friendly and inviting fellow members, a supportive staff, and very reasonable initiation fees and membership dues.
There are currently approximately 300 regular members.
Each year, we are complimented by golfers new to Mink Meadows who say, "How much fun they had on the course", "how nicely they were treated" and simply that "they would be back". As difficult as the game of golf can be at times, Mink Meadows has positioned itself as a place for everyone to simply enjoy the game of golf.
"One of our favorite pastimes when on the Island is playing golf at Mink Meadows. The golf course is always in perfect condition and challenging without being intimidating. Mink Meadows is a golfing community with many tournaments and social events for everyone. It has great staff and terrific friendly members who make you feel welcome and part of the community. We get off of the ferry in the morning, and we are on the golf course in the afternoon to get a quick round in before we unpack.  It feels like coming home. "  – Patricia Bush, member

As our membership is currently full, those seeking membership are welcome to request to be placed on our wait list. This requires completing a membership application and including a non-refundable check in the amount of $250.

Membership 2023
Initiation Fee for Individual, Couple, Family: $3,000
Initiation Fee for Young Adult (22-40): $750
Membership Dues and Initiation fees beyond the first year are detailed in membership fee structure.
Any questions, please contact our Membership Chair, Georgie White at [email protected].

---